XRP hasn't been excluded from the recent rally in the cryptocurrency market. From its lows in March of $0.11, the second-largest altcoin has gained over 100% from the lows. As Bitcoin topped $9,400 last week, the altcoin topped $0.23, showing strength after a macro downtrend.
This recovery aside, top analysts believe that the cryptocurrency is currently in a bearish macro position. One prominent trader went as far as to say that it is the "last stand" for XRP holders."
It's the "Last Stand" for XRP Holders
According to Peter Brandt, commodities and asset trader since 1980 and a technical analysis author, the XRP/BTC chart is currently printing a "desperate last stand" for bulls:
"This chart tells me the bag holders (who need to dump > 40 Bil XRPs) are supporting XRP/BTC at .000023 to .000024 as a desperate last stand. Sellers more aggressive since Oct '19 If the bag holders back away, look for decline to .000011," Brandt wrote, referencing the near loss of support in the chart depicted below.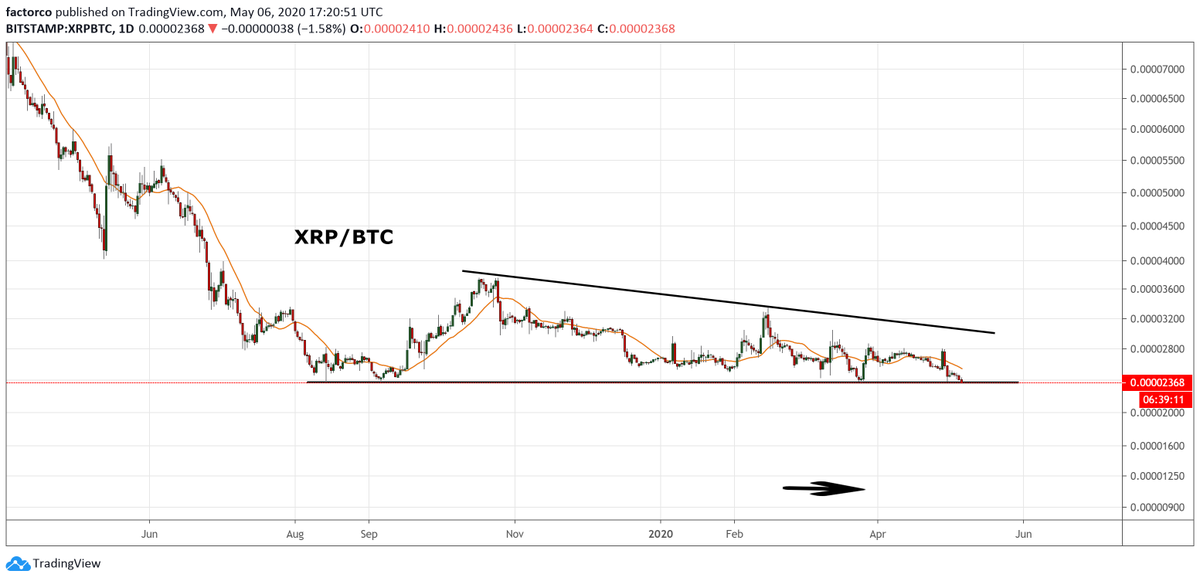 Brandt added in a later tweet that the asset is "on its way to zero." Although a stunning statement considering the recent rally, he made a similar comment in the past, noting in March how XRP's chart is macro bearish.
Far From the Only XRP Bear
It isn't only Brandt who thinks XRP is poised to see a dramatic drop against Bitcoin.
Per previous reports from Bitcoinist, Josh Olszewicz, a crypto analyst at Brave New Coin, recently shared the below chart.
Like Brandt's chart, this chart shows that XRP is breaking down from the lows of the past eight months after managing to hold them for months on end. The chart also shows that the asset is entering a region that has a lack of historical liquidity, implying prices could fall through these levels quickly.
The technicals have only been corroborated by the on-chain metrics.
Olszewicz said in a video analysis on the cryptocurrency that XRP's on-chain outlook for the large cryptocurrency is currently looking far from positive.
Both average transaction volumes and the number of active addresses on the XRP ledger have decreased since 2018's highs. Simultaneously, XRP's NVT, a ratio used to determine the economic activity of a network, has trended lower.
It's Time for Bitcoin to Shine
Whatever your thoughts are XRP's trajectory, analysts say that Bitcoin will soon outperform a majority of altcoins. Should this assertion hold true, that means XRP/BTC's drop is somewhat inevitable.
The head of technical analysis at Blockfyre wrote late last month that the incoming volatility related to the halving will "rekt" altcoins. He continued that from how he sees it, altcoins are always a "game of musical chairs" because they rally for reasons not based in fundamentals:
"The reason the alt pumps are unconvincing is because they have followed the same patterns. IEO's, Interoperability, privacy coins moving together. It's coordinated as it has been the last 3 years instead of all ships rising together."
Photo by Robert V. Ruggiero on Unsplash
Joseph Spezzano received a Masters Degree in computer science from The University of Massachusetts. Joseph has been working as a full-time blockchain programmer for the past 5 years. In his spare time, Joseph enjoys writing for CryptocurrencyInvestments.com and traveling.